BETA 0.7 version
UPDATED
9/7/18 Added Step 3 How to FIX disabled autoplay
2/8/18 Added @Substantial Exposition to the playlist - please welcome him to MUSICOIN!
1/24/18 Beta 0.7 removes time limits so you can include short and long tracks on the same playlist. EXCITING NEWS: Deadly Buda is working with me to make an official MUSICOIN page for the using this player (and making it easier for non tech people to create playlists). Stay tuned! Please follow the track links and congratulate the new artists added today Dephinite "Deap 2017", @Sam-Prock "Crystal Ripples", @DNPQ "Glitched", and Davey Hub "All about Jazz", @vANdER-lAMP "Un petit mor…"
1/22/18 Beta 0.6 limits tracks to 4 min max. New track from @Asterios-Papastamatakis
1/21/18 began thread to prevent the player from straining UBI pool and the integrity of MUSICOIN Thanks to @Zeljko-Stanojkovski for responding and re-verifying my account (flagged due to lots of plays from my IP while updating the beta). Until code is updated to prevent counting too many plays per hour per track, I suggest anyone making versions of the player turn "preview" to =TRUE while testing. Of course it should normally be set =FALSE, because a playlist that doesn't continuously play… is not a playlist LOL!
And I Added a new track from @Soundphaser

1/20/18 Beta 0.5 Has STOP BUTON and Featured Track of the Day! New track from @jamie-bekyarovich
1/18/18 Beta 0.4 Added SHUFFLE MODE option and new track from @juxta
1/17/18 Beta 0.3 Added SKIP TRACK option requested by @jamie-bekyarovich
1/16/18 Beta 0.2 Improved look and feel, reduced and simplified steps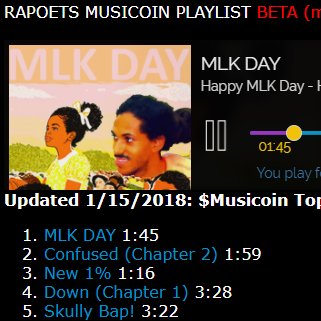 ---
N E W I N S T R U C T I O N S
1. Just replace the default track information with your own
In Track Entry: ["0x748bd8be7f6c3978b071a8d9e82be9836fee3a5b", "Confused (Chapter 2)", 1, 59]
0x748bd8be7f6c3978b071a8d9e82be9836fee3a5b is the track Address
"Confused (Chapter 2)" is the track Title
1 is the number of Minutes
59 is the number of Seconds
2. At the bottom of the track list, enter the date you last updated the list
In Update Entry: whenYouUpdated ="1/15/2018";
to whenYouUpdated ="1/16/2018";
1 is the Month
15 was the Day (changed to 16)
2018 is the Year
3. Chrome has disabled autoplay by default. To FIX it…
Type in your browser "chrome://flags/"
Scroll down or "CTRL+F" for "Autoplay policy"
Choose "No user gesture is required"
Restart your browser
(No point in a playlist that doesn't autoplay )
---
Notes About:…
PLAYLIST LENGTH: is calculated for you, so just copy & paste 1 default track for each additional track you want in your playlist, then replace the info (as shown in STEP 1). But DO NOT copy and paste the Last Entry.
THE LAST ENTRY IS DIFFERENT: Most entries end with ], (bracket AND comma) but the Last one ends with: ] (NO comma). So it WON'T WORK if there's 1. a comma after the Last Entry or 2. no comma after each previous entry
TRACK LENGTH: Find the minutes and seconds while playing ON the $MUSICOIN site. Since there's currently a delay loading tracks, you can increase the Seconds value 5 to 10 seconds to make sure it plays the end of each track. IT'S OKAY to raise Seconds above 60. Each Track has 4 values (see STEP 1). The 4th value is the Seconds value.
SOURCE CODE: Get the newest version at http://www.rapoet.com/mcoinplayer, Right-Click on the page, Select View Source, Copy, and Paste to a new HTML file (Paste in a text file and save it as "SomeCoolPlayerName.html"). Use as a webpage, embedded iframe, or blog (wordpress, etc.) insert.
P. S. If you find this embeddable player useful, leave a tip for Self Suffice. PEACE!
last edited by KHAiiM